I enjoy switching back to being Daddy's girl while getting naughty thinking of and wanting to please my Dirty Daddy. In the start of my scat fun, I had a Dirty Daddy that I would play with on webcam and get dirty while I watched his cock get so hard, and shoot out big loads for my poopy panties, and shitty smears. My second Dirty Daddy is a well know porn star who secretly has scat fetish. I love for my body to be enjoyed, but it's not pleasing when someone only likes me when my body is a certain size. The porn star Daddy wanted me to get my body back to skinny or extremely overweight, so I had to let him go even though I did not want to. I really wasn't wanting another Dirty Daddy, but after a year or so went by I developed a relationship with one of my super worn panty lovers. The naughty cravings and thoughts when I think of my DDT always bring a smile to babycakes face. Email me if you desire to buy content, custom video, or request.
#2021 Making My White Panty Filthy for Daddy, 6:27s
​I am all covered with shit. I wish you were here, Daddy, to see and smell the mess I have made. I put on my white panties thinking of you getting me dirty and have fun smearing myself in the dirty tub turning the cotton panty brown. I know you love cumming in my messy poopy panties when we are apart. Enjoy watching your dirty babycakes have fun in her poopy mess.
#2015 Poopy Poopy Panty for Daddy, 22:23s
I have been wearing my panties for Daddy getting them cummy. But, now I want to make them poopy, so Daddy will enjoy my worn panties even better. Enjoy watching while I poop in my white panty a couple times making them filthier each time. My shit feels so good, I smear it on my big ass thinking of you smearing my shitty panty all over you.
#962 Poopy Panty for Daddy, 18:56s
Mommy is in bed, and it's been a few days since I have pooped. I have been holding back the urge to poop and waiting a few hours. My pussy is so wet thinking of you, Daddy, and waiting to poop for you. I pull down my black pants and tease my pussy through my panty before pushing out a firm turd into my panty. I saved my poopy panty to add more in the next day for you Daddy. I woke up thinking of your hard cock. I add some creamy poop to the thick turd in my panty from the night before. I took off my panty smelling and licking thinking of Daddy getting all dirty with his naughty little girl's poopy panty!
​
After being covered with my shit staying filthy for a long time, I still want to play. I've been such a dirty girl today Daddy. I know you love watching me play, and you need more of your naughty baby cakes poopy panties. I put on a poopy panty that I saved to wear for you again. It's so filthy! I put some poop in the back and some poop in the front of the panty. It feels so good playing covered in my poop for you Daddy! I love getting filthy for you especially thinking about you getting messy with your dirty little girl's panty. Your baby cake's pussy stays so wet for you Daddy. I need Daddy to keep cumming to my super poopy panties!
​
https://www.cassiescatstore.com/en/store/videos/v/super-shitty-poopy-panty-scatgoddess-bundle-3-4/
​
#870 Meeting Daddy Outside to Poop my Panty, 9:55s
Sorry Daddy I was a little late, but I had to sneak out of the house when Mommy wasn't paying attention. I really feel the urge to poop now for you Daddy. I've been waiting to poop in my white panty outside in the woods with you all day. Your naughty babycakes pussy and ass is waiting for your hard cock Daddy. I love getting dirty with you Daddy!
​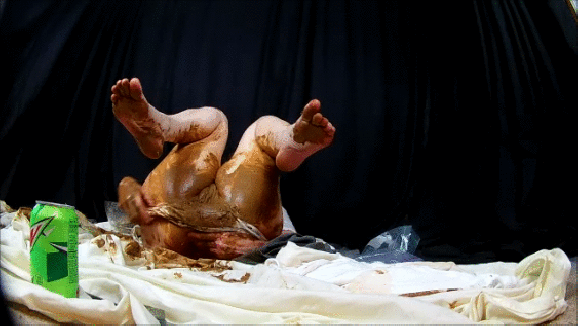 #849 Babycakes Poops in Samantha's Panty Gets Filthy, 24:54s, 25:07s
I have missed my Dirty Daddy so much! I have been thinking about being a naughty girl for you so much. I have a surprise for you today, I've been waiting for so long to share with you. I need to get dirty, Daddy! I saved dirty ass wiped panties and clothes from when I played with my girlfriend Samantha. I know you love thinking of us playing all poopy together, it turns your dirty little girl on. I put on and poop in Samantha's dirty panties, making her panties so much hotter for Daddy. It feels so sexy adding my poop into the same panties Samantha wore and got dirty! I put on my dirty ass wiped panties and push out more poop making both pairs of panties dirty. I put on my dirty shit stained white t shirt gray leggings that I wore when playing dirty with Samantha. I smear and get my pussy all shitty with some saved poop in the clear bowl from the night before. It feels so good getting so poopy thinking of your hard cock, Daddy! My pussy is so dirty, I need you to play with me. I cum so hard getting dirty thinking of you playing with both of our filthy panties especially now since your babycakes filled them up with sexy poops! I can't wait to get filthier during my next poopy playtime for Daddy! You get two different views of this video, so you can watch while I get super filthy and cum hard while having fun all poopy!
​
https://www.cassiescatstore.com/en/store/videos/v/babycakes-poops-in-samantha-starfishs-panty-for-daddy-2-clips/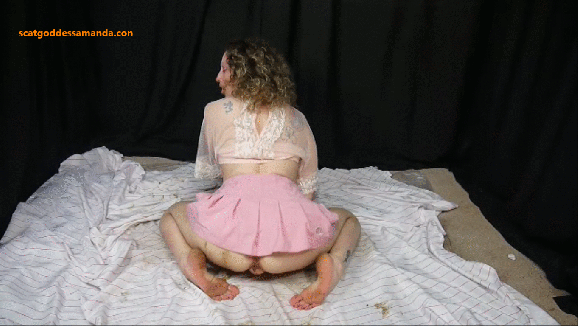 #813 Babycakes Filthy in Pink, 50:32s, 54:03s
Babycakes woke up very horny craving to get filthy for Daddy. I dressed up real pretty, wanting to tease my Dirty Daddy wearing a pink lace sheer top and a very short pink skirt. I was craving for Daddy to get his dirty girl filthy, so I didn't wear any panties underneath. I began playing horny smelling and felling my dried poop from my last time I played dirty. It is turning me on so much I need to get filthier and dirtier. I fuck my asshole and it is a little dirty. I fuck my pussy, asshole and gag on the dildo making me vomit a little. The gagging made me horny to smell and lick my dirty bare feet while masturbating. It felt good rubbing the poop, spit, and vomit on my skin while cumming since it is so filthy! I love being such a naughty dirty babycakes for Daddy! There are two versions of this video, the second file includes photographs at the end of the video that were taking before and after getting filthy!
​
I have been eyeing the strawberry pink cake that Mommy made a few days ago. The cake has been sitting in the refrigerator for a few days, and Mommy just left the house. I sneak the leftover cake out of the fridge since I have been thinking naughty thoughts every time I opened up the refrigerator. I am wearing my blue cotton bodysuit and I am so horny and hungry to taste my poop and cum hard! I pull my blue bodysuit to the side to pee and poop on the cake before I begin to start tasting the poopy cake! Enjoy watching while your naughty babycakes makes Mommy's baking even better and cum so hard while playing with my pee, poo, and vomit! This is the first time that I eat a whole load of poop and then throw it back up while playing!
​
https://www.cassiescatstore.com/en/store/videos/v/scatgoddess-naughty-babycakes-is-hungry-for-poopy-cake/
​
#760 Babycakes Wearing Dirty Panties, 34:24s
I am horny thinking of you Daddy, and I don't know what to wear today with my dirty cotton panties. I try on a few outfits and just get myself horny thinking about you coming home smelling and playing with me in my dirty poop and pee stained panties. I can't wait for you to get home Daddy!
​
#704 Stained Cotton Panty for Daddy, 22:33s
I am sitting on the toilet peeing. I feel a little poop fall out of my asshole, but I squeeze my asshole. I want to be naughty and hold my poop for you, Daddy. I need to get dressed to go school shopping with Mommy. I tease my pussy rubbing through my stained panty crotch, my pussy is so wet, wanting to be naughty for Daddy. I love holding back my poop especially when I with Mommy because she has no idea how much of a Daddy's girl I really am and that makes your horny babycakes pussy soaking wet! I hurry to the potty as soon as we got home and let out a long pee and finally let you watch me poop. I use my white cotton fullback panties to wipe my sexy little ass for you, Daddy. Later on that night I had a dirty asshole while I wore my velvet mini dress you love to see on your dirty girl. I love adding all of my dirty stains to my cotton panties making them nicely stained for my Dirty Daddy. I love making my panties filthy for you to smell like your dirty girl for so long!!
​
#657 Dirty Poopy Girl Tiger Panty, 11:31s
I have been waiting for a couple days to put back on my poop stained yellow cotton tiger panty that I go so dirty for you, Daddy. The last time I wore them, I left a little piece of shit in them, and hid them away so Mommy wouldn't find my messy panties. I put my tiger panty with the poop still inside on as soon as she left the house to go shopping. I put on my little jean shorts that I know you like seeing me wear, and went outside and picked up a few things you had asked me to. It really made me think of my Dirty Daddy more while my pussy and ass was getting all sweaty and dirty even more wearing my filthy tiger panty. I come inside and take my toy to the bathroom, so I can cum. I am so horny wearing my poop stained panties. I need Daddy to fuck his dirty poopy girl so bad!
​
#597 Horny Babycakes Reading Poop Journal #3, 33:41s
I have been studying and I can't think anymore, I just need to cum and go to bed. I am still wearing my super strong smelling cotton white fullback panties thinking about pooping for you when you get home from work. I read you more about my bathroom visits that you missed while you were away from your dirty little girl. My pussy has been getting wetter keeping my dirty crotch moist knowing you will be home soon to play dirty with your horny babycakes.
​
#595 Horny Babycakes Reading Poop Journal #2, 42:02s
I horny and missing my Dirty Daddy dearly, so I go to bed bedroom and find my poop journal. I came so must the last time I read you my bathroom diary entries. I wanted to tell you more about the poops that you missed while you are working out of town for work. My dirty white cotton fullbacks have gotten so stained wearing them over and over again thinking of you, Daddy. I can't wait for you to come home, smell and watch your sweet baby cakes poop!
#578 Horny Babycakes Reading Poop Journal, 29:19s
Your babycakes is horny and missing having you watching me poop and get filthy for you. I have been wearing my white dirty cotton panties a lot getting my panties all dirty for you! I tease my pussy with my fingers through my panties while reading you a few entries from my journal. I need you back home Daddy. I use my vibrator and cum again and again thinking of Daddy and how much I miss you!
​
#542 Poopy Ass Wips for Daddy, 14:53s
I hate when you leave and you can't smell and lick my dirty ass and panties, Daddy. I've been wiping my poopy ass after going to the bathroom several times thinking of you. You always wipe my ass much better for me, but I want you to smell my dirty panties that I'm making for you while you are away, so you can always be close to your dirty little girl.
​
#537 Peeing in Mommy's Pj's & Trashcan, 16:02s
I have snuck into your room and went through Mommy's pajama drawer. I put on the silky blue shorts she always likes to wear around the house. I know you will enjoy seeing Mommy wear her shorts more knowing that your little girl did something naughty while wearing them. I pull out her trash can so I can pee right through her silky shorts while squatting above her bathroom trashcan. It will make me smile every time I see Mommy throw something away now lol! I'm so horny thinking of you Daddy, I'm so happy of the secrets that we keep away from Mommy, they keep your dirty girl so wet! It feels so good when I pee and came good in Mommy's pajama shorts!
​
#532 I've been a Naughty Girl Again this Year, 29:45s
I've been thinking of you ever since you left, I need to play and get dirty, Daddy. I have on my dirty poopy cotton Santa thongs with big plastic pants on top and need to pee badly. I wish you were here with me getting your baby cakes dirty. I use the baby doll you bought me years ago and get her all filthy wishing it were my daddy's hard cock pressing and rubbing against my hot tight dirty pussy and ass! I made Santa's bad list again this year, but I love being your dirty lil girl.
​
#506 Thank You For the Candy Daddy, 22:14s
I wanted to thank you, Daddy, for all the Halloween candy that you bought me. I have been eating so much of it, and it has made me so horny thinking about pooping for you, getting filthy for you, and just to please you, Daddy. I miss you so much when you are gone away for work. I need you to come home to your dirty girl soon. I saved two Halloween ghost candy peeps that you bought me and pushed them into to my full ass. My asshole is so gooey and sticky! I enjoyed eating the candies that were in my ass thinking of you. I needed to shit, it felt so goo thinking of you Daddy, I just had to pick up my shit and put it in my mouth. I needed to taste my poop and think of your hard cock. I need to cum so badly! Wishing you were getting filthy and eating the marshmallows right from your dirty girls ass. I masturbate with my mouth full of shit while enjoying the taste of my own poop. I love getting filthy for you Daddy xoxox
​
I have missed you so much Daddy! Mommy just left to go to the store, and I need you to watch me poop and get! I took off all my clothes so, I am only wearing the cute polka dot panties that you love seeing on your dirty little girl's ass. I brought in my blue dildo because I am missing your hard cock. I start fucking my pussy and begin pooping in my panties and all over the bathroom floor. I am so horny for you Daddy, I pick up the rest of my poop from the floor and put it back into my panties to continue playing getting super dirty just as my Daddy loves seeing his babycakes dirty! I LOVE getting FILTHY for Daddy! Video closes with still pictures showing Daddy how filthy I got while having fun playing with my poop!
​
https://www.cassiescatstore.com/en/store/videos/v/mommy-just-left-now-i-can-play/
​
#471 Daddy Please Let Me Shit, 8:49s
Daddy please let me shit, I have been holding back all day being a good girl thinking about you. I wanna shit and play with my poop before you fuck my dirty ass. I want you to watch me Daddy while I talk to you. I poop in my cute yellow panty and play with my shit. I am so horny I lick and put my poop in my mouth while I play with my wet waiting pussy. I love the taste of my chocolate that I just keep licking and sucking on my logs for you, Daddy. Thank you for letting me poop, I love being a dirty naughty girl for you!!!
​
#443 Punished by Daddy, 29:18s
I have been thinking about you all day for you, Daddy. My pussy is so wet, I need to poop for you, I think I am totally addicted to having you watch me go to the bathroom now. I'm sorry for being gone so long from you Daddy, but I did miss you and thought about this moment to get naughty like you enjoy so much. I love getting messy for you Daddy. It feels so good playing naked on my bed with my feet for you, but then something weird starts happening. My movements are not my own now, it feels like you have control of your little girl's body. I knew you were going to punish your dirty girl, but I didn't know you were going to take control of my body andpush my face into my pile of poop Daddy! You were rough and forceful with me, Daddy, so much I enjoyed my dirty punishment.
​
#434 Sick but horny for Daddy, 16:52s
I'm supposed to be in bed, but I am horny and I need to poop,. Your little girl is so horny. I miss your cock and, I know you miss your little girl's poop. I tease my pussy with my vibrator over my panty while pooping thinking of you fucking me later tonight. I smear the shit on my ass thinking about getting better from being sick and then really getting filthier for Daddy soon! I'm gonna clean up and take a shower then I promise I will get back to bed,, I feel a little better now that I dirty for you Daddy!
​
All through dinner all I could think about was my Daddy's hard cock in my tight ass. I went straight to my bedroom and got undressed all except for my cute pink socks. Your naughty girl, Baby Cakes, needs to cum and needs Daddy's cock. I finger my pussy thinking of you Daddy while tasting shit off my anal plug makes my pussy so creamy. I fuck my ass more since I really need to feel my Daddy filling me up. I suck, lick, and clean up all the shit left on the tip of my plug. My shit tastes so good Daddy.
​
https://www.cassiescatstore.com/en/store/videos/v/scatgoddess-stars-in-daddys-babycakes/
​
#405 Live Cam with Porn star Daddy, 25:59s
I was so happy to hear from my porn star Dirty Daddy, it had been too long since I had last played for him. He had me all smiles, nervous but excited to play for him again live on cam!! Daddy has that effect on his little filthy babygirl. After pushing out a big creamy poop with my legs spread open wide, I began to play with my pussy and smear a little, but Daddy said he would be right back. Being a good dirty little girl, I sat on my bed waiting all filthy with my shit waiting patiently for Daddy to come back to finish playing with me. After about 30 minutes of waiting, I begin taking pictures to of how dirty I have gotten so far for him. After taking a few pictures for Daddy. it has made me very horny again. I keep checking my cell phone, but unfortunately I was left filthy on my bed!! I couldn't wait any longer…I hoped Daddy would be pleased that I played with my dirty pussy with my shitty covered fingers while thinking of his super hard cock! I also want to show Daddy that I practiced the new trick he taught me with my anal plug. (Only Daddy was able to see my pretty little asshole push out my poop..while all hot and dirty I deleted some files on my video camera because it was full and accidentally deleted that scene, so I could cum for Daddy before getting cleaned up…Truly, I wanted to get shitty and cum while watching my Dirty Daddy stroke his big dick!
​
#398 Pooping in Panties for Daddy, 22:18s
​
I have been so horny thinking of you, Daddy. I had a little runny accident while I was at school. It made me think very naughty thoughts of your cock. I want you to watch while I am being a naughty little girl pooping in panties. It makes my pussy so wet holding back the urge waiting for Daddy to watch me poop. I fill up my panties with a creamy crackling load and it excites me very much. I give you my poopy panties to play with while you watch your dirty girl masturbate getting filthy with poopy panty. Fuck me Daddy! I love my daddy's cock! I want you to cum in my mouth Daddy, so I can taste your cum and clean off your cock, so Mommy doesn't smell me on you. I love waiting to poop for you Daddy!
​
#374 Poop for Daddy, 4:53s
I thought I could hold it for you until I got back from the doctor's office, but I had to go before leaving. I love when you watch your little girl poop. After pushing out all of my poop, and showing you what I released into the toilet bowl. I want my Daddy to smell sweaty stinky feet after going to the bathroom, so you can smell your little girl's ass, poop, sweaty feet and socks at the same time. I love when you smell me Daddy!
​
Please reload