Over the years, I haven't vomited a lot while playing. I have tried it a few times and enjoyed vomit play making me cum hard!
Click on the pictures below if you wish to purchase video, it will redirect you to clipstore. If it's not linked yet you may always buy directly from me just email me.
#860 Sexy Vomit Poopy Panty, 45:03s
After fucking myself with a padded filled condom yesterday I am still craving to feed you my vomit poopy period panites. I was going to do another padsturbation playtime because it made me cum so hard. I don't have a condom handy, so instead I suck my pad while playing with my pussy. My blood tastes strong, but good, and makes me cum. I remove the toy that I had inside of my pussy and ass and suck clean my juices. I put the toy back inside of me and back in my mouth. The dirty toy makes me gag and I vomit on my panty getting it nice and coated before putting it back on to fill it up with my sexy poop. I am so horny thinking of you tasting all my sexy juices, you need to be under my hot, dirty ass soon! Worship all that comes out of my body!
​
#859 Silky Pink Poopy Vomit Padsturbation, 30:23s, 39:04s
I have been wearing my silky pink fullback panties for a few weeks now and my pussy stains are smelling so good. My pussy is so wet thinking of my toilet slut panty lover to sucking clean my dirty panties, but they need need to get filthy first. Follow me to the bathroom while wearing my silky pink fullback panty and worship all that comes out of my sexy pussy and ass. I get surprised by my period and think of a naughty way to get off that I had not done in a long time, "padsturbation" It was an idea that one of my fans gave me years ago. I take off my soiled pad and put it inside a condom to use as a dildo, and fuck my bleeding pussy with it. I cum real hard while getting my silky pink panty poopy with the perfect little poo stain in the back that looks like the poop emoji. My period poop feels so warm and I want you to have even more that comes from my sexy body. I suck on my pink double ended dildo and vomit into the filthy pink panty you will be sucking clean. I get off while gagging and spitting up making my pretty pink silky panty super filthy for you to stroke your cock with and cum over and over again!
​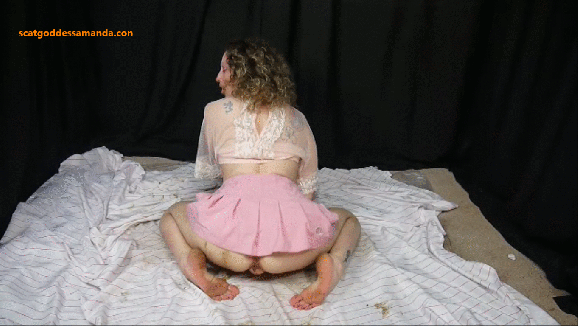 #813 Babycakes Filthy in Pink, 50:32s, 54:03s
Babycakes woke up very horny craving to get filthy for Daddy. I dressed up real pretty, wanting to tease my Dirty Daddy wearing a pink lace sheer top and a very short pink skirt. I was craving for Daddy to get his dirty girl filthy, so I didn't wear any panties underneath. I began playing horny smelling and felling my dried poop from my last time I played dirty. It is turning me on so much I need to get filthier and dirtier. I fuck my asshole and it is a little dirty. I fuck my pussy, asshole and gag on the dildo making me vomit a little. The gagging made me horny to smell and lick my dirty bare feet while masturbating. It felt good rubbing the poop, spit, and vomit on my skin while cumming since it is so filthy! I love being such a naughty dirty babycakes for Daddy! There are two versions of this video, the second file includes photographs at the end of the video that were taking before and after getting filthy!
​
​​I just left the house, and I took the cake that Mom baked the other day, it's been a couple of days so I snuck it out of the house in this bag so she wouldn't see me. I wish she could see it now, I made it look it better with some icing saying "I Love Scat." I am wearing cute pigtails in my blue cotton bodysuit.

I am so horny and hungry to taste my poop and to cum hard for you! I pull my blue bodysuit to the side to pee and poop right on top of the pink cake thinking of you. I've been waiting to get dirty all day. It looks so yummy! I turn around and push the rest of my poop out on the cake too peeing and fingering my pussy. Licking my wet fingers I taste so good. I turn back around facing the poopy cake and tease my pussy and breasts, then reach in the bag and pull out my anal beads and fill my ass with them.

I haven't been fucked in so long, I need you to fuck me. I fill and straddle my pussy with a dildo getting myself so horny to eat all the shit for you. My shit smells so good. I fuck my pussy good as I chew up and swallow all of my shit. Enjoy watching and cum with your naughty babycakes while I make Mommy's baking even better with my poo and cum over and over again.
​
​
I am wearing my very worn purple g-string and gray boyshort panties that are very cum stained. I have worn both pairs over and over again adding my sexy juices and cum into them thinking of you. I want you to be intoxicated by my pussy and powerful natural scents. Follow me to the bathroom a couple of times while wearing my skimpy, dirty purple g-string thong before cumming hard while playing wearing and smelling my strong sexy pussy and panties! I am so turned on by my dirty panties that I begin sucking and gagging myself with my dildo. I cum so hard when I make myself vomit a little while gagging on your cock! I love thinking of you smelling my worn panties!
​
​
I've been wearing my white cotton panties for a couple weeks getting them nice and stained with my pussy cum, discharge, and ass stains. For the last few days I have been holding my poop back to make a very nasty pair of panties for my panty pervert. I push out a big load out of my sexy ass filling up my panties, and it makes me horny thinking about getting you filthy with my poopy panties. I want my panties to be the filthiest that you have ever had the pleasure to hold in your hands, so I give you corn vomit on top of my full cotton panty to worship even more of my sexy body!
​
​
#518 Period Scat Nasty Girl, 1:02:33s
I finally have the bathroom to myself to play while Mom is watching her tv shows. I hurry in and lock the door and unpack the goodies that I have in my bag: plastic table cloth, used tampon applicators, dirty panty liners, period stained panties, dildo, cake and a soda. I started my period earlier today, so I put a second pair of panties on top of my accident panties. I have been thinking of getting filthy in my bathroom all day long! I begin smelling my used tampon applicators and the aroma from my bleeding pussy and need to poop makes me do very naughty and nasty things. I need to feel my shit covering my skin so I can cum hard!!
#513 Desperate Kinky Pee, 11:15s
I've been cleaning up all morning and now I have a full bladder, and so desperate to go pee. When I was in my bedroom, I found a dirty toy that was accidentally left by the side of the bed and not cleaned up my hubby's sexy blonde sub. He had gotten two other toys that were used on her, but managed to forget a blue toy. I was headed to the bathroom sink to clean the used toy, but I was so horny from holding back the urge to pee, I thought it would be much better if I cleaned the dirty toy with my mouth. I also grabbed one of my dirty panties to smell while I waited to finally release my strong pee. The sexy young petite's blonde ass smelt and tasted good on the toy while I teased and played with my pussy. It felt so good when I finally let out my pee that I was holding back so badly! I suck and fuck my throat with the blue toy and cum so hard while thinking about my hubby using the sexy blonde submissive with my sex toys. I gag myself with the dildo, I'm so horny I lick up my spit up her ass tasted so good!! I need some new toys to play with since I am now sharing mine!
​
Your sexy dirty girl has a sweet birthday surprise for you. I bought you a cake, but kept having naughty thoughts every time that I looked at it. I know how much you love sweets and my ass, so I thought I would combine them as a special treat for you to enjoy. I need to get off and I want you to cum hard to my filthiness as I push my firm poop back into my pussy. It was so exciting having my pussy and mouth full of my shit while making a big mess of your birthday cake. I get so turned on that I make myself throw up and got even more turned on. I love getting filthy for my ass lover!
​
Please reload