I love the feel the bulge of my warm poo and pee running down my legs when I mess my pants whether it be on accident or on purpose. Email if you desire to buy content, custom video, or request.
I am so horny with a full enema ass while wearing my tight black pants. I can't wait to feel the amazing release and explosion that is about to happen! I push, and it feels so hot omg! I smear my mess on my black pants making my legs brown, making me hornier wanting to fill up my ass again with another enema....mmmm Watch my sexy filthy asshole while I pull down my pants then pull them back up to push out another brown liquid mess through my pants. It felt so good as always.
​
https://www.cassiescatstore.com/en/store/videos/v/scatgoddess-double-black-pants-enema-scat/
After cumming and making a mess in my jeans, I am still horny and need to cum even harder. I've been smelling my strong saved shit saved in baggies sitting next to me. Smelling all of my shit is keeping me horny wanting to playing and continue getting filthy with my shit. I start opening and smearing my shit all over my black boots. It feels so naughty piling and smearing the shit making my black boots turn a beautiful shitty brown. I tease my pussy with my vibrator wand and push out more poop in my jeans as I cum wearing my shit covered boots. I feel so sexy now that my outfit looks much hotter covered in my shit. I cum so hard while playing in my boots thinking of walking next to you in public with my shitty jeans and boots! Don't you think my clothes look better now?
​
https://www.cassiescatstore.com/en/store/videos/v/messy-jeans-boots-smear-scatgoddess-bundle-2-4/
#850 Late Night Accident in Jeans, 9:23s
It's late, and I am just coming home from shopping. The last couple hours my stomach had been feeling a little upset while I was out, but I didn't have to go quite yet. Once I started driving, the urge to go poop hit immediately. My tummy was rumbling, so I was rushing in traffic trying to make it home fast. I just couldn't make it soon enough, and had an accident before reaching the toilet. My stomach started cramping more as I accidentally messed my one of my favorite pairs of jeans. I can't believe how messy I am, I can't go inside the house like this! I think of a quick solution, and get cleaned up before anyone catches me outside.
I have been waiting ever since I bought these black leather trousers to poop in them for you! I love the loud crinkles when I wear them, it makes me think of you. I can't wait to poop in my black leather pants and pushing out stinky farts in them for you. After modeling and teasing in my black leather trousers, I poop a creamy load in them before pulling them down showing you my dirty ass. I put some water in my ass because I want to get all the poop out and get my leather pants nice and messy. It makes my pussy so excited when my farts push out of my ass through my leather pants. I love having you watch me get filthy and get off in my poopy leather pants! It feels so god smearing my creamy shit on my pants thinking of your hard cock cumming on my shitty leather trousers. Cum hard to my sexy ass.
​
​https://www.cassiescatstore.com/en/store/videos/v/leather-trouser-poop-and-farts-2-angles-from-scatgoddess/
​
I am wearing my wireless bullet in my pussy and holding back the urge to go pee for over an hour. I finally get to the bathroom, and I'm craving to cum too! At first I decide to pee in my cute striped cotton panties, but the vibrator feels so good on my pussy. I decide to pee in my leggings which will get my panties wet too! As I begin to pee, I feel my poop wanting to come out. I was not expected to have any poop in my mouth, so I had to fill up my mouth and have a quick taste.
​
https://www.cassiescatstore.com/en/store/videos/v/peeing-turns-into-scatgoddess-eating-poop-surprise/
​
#706 You Love My Ass in Black Leather, 31:37s
I bought a new pair of black pants knowing it would make you so excited seeing my ass in leather. I love teasing you and having your face right in my leather pants. I get horny from the time I am shopping in the store for leather pants, because I know how much you love the way they look and feel on my skin. I am teasing and showing you my ass wrapped in leather, when all of a sudden I couldn't help it I pooped in the pants I bought to wear for you. I saw you give me a little smile when I told you what had happened. That kept me horny and wanting to cum and have you fuck me wearing my dirty black leather pants and boots. Now I'm really glad that I had a little accident in front of you it really made me cum hard! I hope you enjoyed.
​
#700 Desperate Locked Out Light Jean Poop, 15:39s
I am alone in the woods and my stomach begins hurting and cramping so bad. I see a run down caravan close by. I just want to sit on a toilet and poop so badly, so I go to the door quickly and begin knocking. I have to go so bad, I walk in uninvited. This place is weird, but I continue to what looks like a bathroom door, but it won't open! My stomach is rumbling, and I can't control it any longer. I feel my warm poop running down my ass and leg. I couldn't hold it back any longer! I'm so upset and embarrassed that I am all poopy, ruined my favorite jeans that actually fit me, and made a mess in someone's gross old caravan in the woods! I gotta get out of here before someone catches me!
#517 Scat Destroyed Marc Jacob Leather Pants, 42:45s
I have been turned on all day wearing my Marc Jacob tan leather pants. The smooth cool leather felt so good on my skin and the sound of it moving, just made my pussy wet even more thinking of getting filthy in them later. I had to pee and poop, so bad, but of course, I enjoy teasing myself before releasing and smearing and ruining my expensive leather pants with my piss, shit, and squirt! It was totally worth it though, I came so hard feeling the dirty wetness in my pants while my pussy got so filthy with my shit! OMG so it felt so hot! Cum hard while watching me get filthy putting shit in my mouth, pussy and not caring about trashing my leather pants!!
​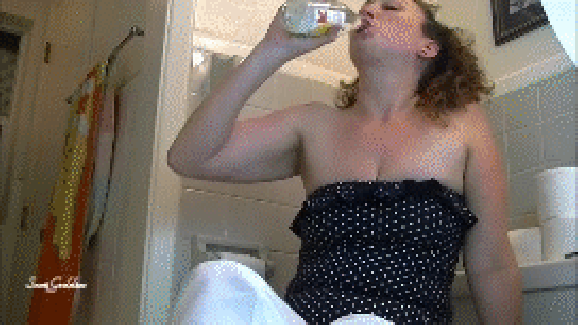 #416 Pissy Shitty White Pants, 11:01s
It was requested that I drink Magnesium Citrate laxative and mess my white pants. I was nervous for a few days just to even drink the laxative, I just knew it would taste nasty! I could feel my tummy bubbling, but I had no warning when I would need to release. I pissed myself about hour and half after taking the laxative. I waited up a little bit longer, until I passed out. I wasn't sure if my ass would explode during my sleep, so I slept with a towel underneath me. Once I woke up, I put on my damp pissy white pants to wait to mess them up with my shit.
​
I feel the urge to shit, and get filthy with my frozen shit log I made a couple days before. I put the cold frozen shit log to my pussy trying to push inside, but as expected I made the log a little big to fit in my tight pussy since my ass is so full of shit. I want the shit inside of my pussy, so I break the log into pieces and put into my pussy. Then I put on my gray spandex pants and then plastic pant on top of. I'm so excited to make a filthy mess, I push out my shit in my ass while my pussy is full of shit. I rub over my plastic pants as it fills up with my shit and piss. I am so turned trapped in my own piss and shit. I play with my filthy pussy and ass with my toys. Smearing my shit on my breasts feels so good as I get filthy! I cum so hard with shit all over my sexy Goddess body and in my pussy! Worship all of MY Sexy Filth!
​
https://www.cassiescatstore.com/en/store/videos/v/filthy-spandex-plastic-pants-with-scatgoddess/
​
#240 BBW Shitting in Your Mom's Pants, 13:26s
After losing a strip poker game, I was left confused why you told to put on your mom's white pants…..I was shocked to find out that you really wanted me to go to the bathroom in your mom's white pants!! Since, I told you I would do whatever you wanted if you won the card game, I do as you say, but I'm very nervous, hesitant of going to the bathroom in front of you especially in your mom's pants! This was so embarrassing having my warm piss and shit run all down my legs getting all nasty having you watch as I did loose the bet!
​
#130 Getting Messy Outside, 21:02s
I am so hot and horny with a full ass. I have been holding my poop for a few days, so I could have fun and make a mess outside while hubby is out of town. I go outside when I get the urge and I am wearing jeans and yellow cotton panties underneath. I push as I have to go so bad and make a mess all in my pants. My poop and pee mixture feels so warm and good as it runs down my body. I pull down my jeans and panties to masturbate. I wonder who could hear and see me as I was getting filthy!!
​
#47 Soaking My Jeans, 9:06s
I have just back from my friends house and I have to pee so bad!! I had been holding my pee for so long because I desired to be worshiped. I sit on my bathroom floor in a t-shirt and jeans. I want to be worshiped properly as it pleases me so you must kiss my hands and feet first before I get my panties and jeans soaking wet with my pee. I begin to go pee and the wetness shows through my jeans making me very horny lifting up my t-shirt playing with my beautiful breasts. Once completely soaked, I remove my wet jeans and panty and commands you to worship them and clean them with your mouth! Thinking of my Goddess nectar being sucking on and savored by my toilets makes my pussy so wet and I begin to finger myself. I am so turned on, as I am playing with my pussy, I pee some more and also let out some poop from my sexy ass. Once I have finished myself off, I give you a close look of my soaked panty and jeans.
Please reload
Cum hard to my big, sexy ass!