I love providing a variety of fetish treats for my hungry toilet sluts and fans to continue craving more of my sexy ass. Send me an email if you desire my content, something sweet, or have a custom request.
#2041 Shitty BBW Ass Lollipops, 17:50s
I know how hungry you are for my shit now that my ass is even bigger. Enjoy watching my curvy body fuck my big dirty ass with lollipops for you to eat. It makes me so horny having you eat my shit. I want you to suck on the candy that has been in my asshole, made me cum, and covered with my shit. Worship my big ass and eat my shit!
​
https://www.yezzclips.com/store_view.php?id=2313&searchby=keyword&page=1&keyword=Shitty+BBW+Ass+Lollipops
​
1 ass pop for $35 or 3 pops for $50 Message if you desire a dirty ass treat! video preparation of treat included plus pick one premade shitty pop video to enjoy and help your craving while you wait to taste my sexy ass!
#951 Piss Noodles & Scat Fetish Pizza, 21:39s
I am excited about to prepare a special fetish meal for my toilet slave w. I have ingredients to make chicken ramen noodles and homemade pizza, but I am going to make the meal so much better for my slut. My bladder is so full ready to collect all my pee to boil my noodles in. I had a feeling that I would need a little more pee than my bladder could hold, so I collected some of my morning pee. I let the glass container of my pee sit for a week thinking of my toilet slave every time I walked by and saw my strong piss. I add some of the saved pee with the fresh pee and let the noodles start to boil. I try to poop, but only two little firm turds come out of my ass. I was hoping for a bigger load to make a creamy sauce, but instead I broke up my firm shit and placed it all over the pizza crust. I know my toilet craves everything from my sexy body, so I sprinkle some of my toe nail clippings and boogers, and spit before covering all my tasty ingredients with mozzarella cheese. I am pleased with knowing that my toilet will get lots of different dirty tastes of my body with his meal, and will have him coming back for more of my sexy ass!
​
#811 Taste my Poop Eat My Ass Pops, 13:30s
I am outside wearing a sexy little black and red lace dress thinking about you. I want you to taste the poop from my sexy ass because I know how much you crave my body. I let you watch me poop and pee before fucking my dirty ass with a couple candy lollipops. I cum good with the candy inside of me thinking of you tasting and eating my sexy poop. Suck on my yummy dirty lollipops, and taste my dirty ass!
​
#778 Colorful Poop Pee Scat Brownies, 23:53s
I am horny in the baking mood with the desire to feed my hungry toilet my yummy scat brownies. I push out some of my sexy chocolate into a bowl, but there was not enough poop to begin baking. After getting a good night's rest and a belly full of breakfast, I have the urge again to poop. I add another load on top of my first small load, but got surprised with a colorful addition from my hot ass. I mix up all of my poop and bake a batch of scat brownies for my hungry toilet slut. Enjoy and eat up all that comes from my sexy body!
​
#732 Making Poo Brownies Outside, 32:25s, 6:51s
I just woke up wearing my sexy velvet floral nighty and I have to go to the bathroom so badly. I go outside to make you a special treat since I woke up with poop pushing at my asshole making my pussy very horny. I know you have been dreaming and craving my sexy body, so now it's time to eat what I prepare for you to enjoy, My pussy is so wet knowing you will eat up all the scat brownies that I'm making! Consume my sexy poop, pee, squirt, spit, and cum hard tasting what comes from my hot body! This comes with an extra masturbating video where I was horny while baking my scat brownies and playing with my huge black dildo. When baking the second batch, I decided I needed to cum again playing with my big black toy again, but this time cumming outside while my treats baked.
#689 Making Pee Poop Mac n Cheese for servant w, 42:31s
My long time servant w is finally back serving in my presence, but this time to serve my sexy ass on film. A couple years ago, I prepared a shitty mac n cheese meal before going to a session to feed him. It really pleases me to prepare the same meal he enjoyed again but in my presence, and watching my servant w taste and eat what I give to him. Before cooking, I allow my servant to worship my sexy, dirty feet, While the water is boiling and noodles are cooking my servant worships my sweaty armpits, cummy unwashed pussy, and dirty asshole before being fed the meal I prepare in front of him. I also get the dry, dead skin from the bottoms of my feet to be added on top of the meal after all mixed up. After giving my servant a few spoonfuls myself, I need to get off watching him eat my pee poo mac and cheese meal. The night prior I could not go to sleep without going poop, so I saved my poop. I begin licking my saved thick sausage poop and give it servant w from my mouth to suck while I masturbate. I cum hard while my shit is in my servants mouth pleasing and amusing me. I fix a plate of leftovers for my servant w to take home and consume more of my sexy pee and poopy meal later. I look forward to having him eat more of my sexy poopy foods made from my sexy ass!
​
​

#656 Huge Pouring Poop Sticky Ass, 11:37s
I had the urge to poop before going out to eat dinner. I ate a big salad and chicken alfredo fettuccine for dinner, then went to a store after to walk off my meal. When I finally got back home, a few hours later I really needed to go to the bathroom. I hurried to the bathroom, pulled up my skirt, pushed my thong to the side and a huge poop poured. It felt so good finally releasing my poop, I want you to taste my delicious shitty ass. I get on my bathroom floor and fuck my dirty asshole with four tootsie roll candy lollipops. I cum good fucking my asshole getting all sticky. I can't wait for you to smell and taste my sexy filthy ass!
​
#622 Suck My Pussy & Ass Lollipops, 12:39s
I have been thinking about you sucking on my pussy and ass lollipops all day. I got to my big butt girlfriend, Ashley's house and was already horny. I just stopped by to pick up something, but I asked her if she could film while I fucked my pussy and ass with a couple lollipops on her bed. She agreed and was very curious and began asking more questions, I could tell that her pussy was getting nice and wet while she filmed me playing and getting sticky on her bed, sticky ass dripping into the toilet before washing up in her shower. Send me a private message if you wish to buy lollipops that have been inside of my sexy body and helped make me cum good thinking of you sucking the candy I fucked myself with!
​
#616 Taste My Ass After a Firm Poop, 33:45s
I am horny as always, out running errands and stop at library. After I get what I needed printed, I begin looking for some books to checkout and read, but I started getting a tummy ache. I walked until I found a bathroom, and allow you to follow me into the women's restroom. A few ladies came in while I was going to the bathroom, and I rubbed my pussy while they peed. It made me even hornier listening to the other women use the restroom. I found some candy in my pocket book and fuck my ass with two candy ring pop. I leave the restroom with my ass all sticky. I went home and had to go back out shortly to pick up some barbecue for lunch, and I still had my goodies in my purse. I need to smell and taste more of my shit, it makes me think of you tasting my sexy ass after going poop. You will love my ass pops after a firm poop if you want something that has been in my ass, but not all dirty and covered with my poop.
#599 Huge Poop Drug Store, 13:48s
I woke up this morning and I had the urge to go to the bathroom so bad. I wasn't sure I was going to be able to make it to be able to capture my poop on film to make my ass pops. The urge was that strong, but I held back. I was rushing around my house to get my camera stuff, get changed out of my pajamas. I had a lot of pressure in my tummy, so I went to the toilet to sit down to pee. I thought if I tried to pee I would relieve some pressure. I held back my poop while sitting on the toilet, but I could not pee without pooping. I had to continue to get ready and keep holding back the urge to poop. I put on tight jean shorts to help me keep tight and holding the turd in my full ass. I continue to get ready and about 15 – 20 minutes I was in a drug store bathroom releasing of the biggest poops! It felt so good pouring out of my ass. I peed a lot too luckily there was a little drain by me in the floor. I fucked my dirty ass with four blow pops for one of my hungry lucky fans to taste my shitty ass for the first time. It made my pussy so wet pooping and fucking my ass all sticky when I heard drug store employees talking outside the bathroom. Enjoy watching me push out a huge poop and be naughty in the bathroom.
​
#541 Festive Gingerbread Scat Treats, 22:03s
I've been waiting to feed you my chocolate gifts from my sexy ass and prepare you special gingerbread scat treats. I woke up still and I can't wait any longer, I need to poop and release the food that you are awaiting food. I pull up my long robe and reveal that shit is already caked inside the cheeks of my sexy white ass. Since it's the holidays, I push out a creamy poop in the middle of my kitchen in the bowl with the gingerbread mix. I want you to consume all that comes from my sexy body!
​
#540 A Big Thick Shit Burger for My Brother, 1:07:18s
It has pleased me to make my annoying step brother wait and crave his sister's shit for so long. While my bro has been dreaming of his sister feeding him shit again, his darling sis has been saving and preparing nasty things to add to the big thick shit burger. This time bro, you will have no escape I am going to force feed you, and I also prepared a special shitty lube/drink for you as well. I know how much you need your sexy step sister's shit down your throat and all over your cock!
​
#529 Big Creamy Poo Brownies, 11:50s
I have been holding back the urge to poop for several days getting ready to feed you a special scat meal prepared from the shit that poured out of my sexy ass. I pull down my jeans and release a big creamy shit perfect to mix in a batch a brownies and prepare for you. I can't wait for you to consume my scat filled brownies. I want you to be able to smell my shit as you are tasting my shit ass well. That pleases my filthy ass so much!!!
​
#485 Poopy Pumpkin Spice Cookies, 16:53s
I go to the bathroom after dinner in my kitchen and push out firm but creamy turds. I save my poop, so I can prepare my toilet servant's shit cookies in the morning. When I wake up, I can feel a little more poop in my ass, so it will be perfect to add more shit into the mix for my ass worshiper. If you like pumpkin, you will love my poopy pumpkin spice cookies because my Goddess shit makes everything taste better! Consume all that comes from my sexy ass!
​
#484 Creamy Butterfinger Poop Brownies, 11:18s
I wanted to surprise you and bake your favorite dessert adding your favorite Butterfinger candy, but I've decided that you need to eat my Goddess shit as well. I get undress in my kitchen and poop right into the bowl I'm going to prepare your brownies in. You need my shit in your mouth and in your stomach. You will enjoy eating my Goddess brownies filled with my shit. You won't ever want regular brownies ever again. You will crave MY Goddess shit after you have the first taste of my sexy ass! Consume your special treats made by Goddess.
​
#483 Shitty Corn Brownies, 14:52s
You have been craving long enough my toilet, now it is time for you to eat from my sexy Goddess ass! I push out a creamy shit full of corn perfect to mix to make scat brownies for you to eat. I want my shit in your mouth and in your belly. I scrape the bowl and get a spoonful of shitty batter for you to taste, but instead I clean the spoon teasing you even more while you wait to consume my yummy Goddess shit!
​
#482 Shitty Pussy Shitty Ass Lollipops, 40:08s
I was all ready to play on cam and super horny with one of my scat lovers, but something happened with their computer, and left poor Goddess all hot and horny with a full ass, speculum, anal plug, dildo, and tootsie roll pops. I waited and even went to my bedroom to masturbate over my panties with my wand massager, but no luck so I wanted my Goddess ass worshiped, and cum hard like I wanted and needed so badly!! Enjoy watching as I spread my pussy, and stuff a creamy load into my pussy, and make some yummy shitty pussy/ass lollipops. I eat one of the lollipops, and keep the rest for lucky toilet servants to consume to please my sexy ass.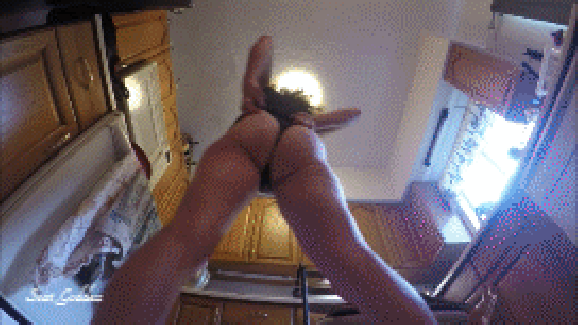 #473 Oatmeal CranRaisin Scat Cookies, 20:45s
I need you under my ass now to eat my Goddess shit, open your mouth while I pop out firm chocolate poop balls out of my sexy ass. You are so far from my ass, so I will prepare and bake you a special batch of cranraisin cookies for you. Instead of adding any other ingredients, I decide that all you need is my Goddess shit and cranberries and raisins to sweeten up the cookies. Consume all that I give you to please my Goddess ass! Enjoy my yummy treats!
​
#468 Creamy Load Brownies, 12:44s
I have been thinking about you a lot for the last three days while holding back the urge to shit. I know my toilet is hungry craving my yummy poo. I go to my kitchen and release a big creamy shit in a bowl to add to the brownie mix to make them much better for you to eat. Enjoy watching while I prepare another batch of my scat brownies!
​
#447 Chinese Dinner for Annoying Brother, 34:10s, 33:24s, 25:55s
It's my brother's birthday and I want to make one of his favorite Chinese dinners, rice and lo mien. Since he has been so annoying and loves to frustrate his sister. I thought I would trick him and make him a very nasty birthday meal, made with ingredients only from his sexy step sisters body. I send my bro the meal first and the video the next day, so that by the time he watched the video he was probably feeling a little sick. His sweet sister included: poop, piss, period blood, squirt, boogers, pubic hair, spit, toe nail clippings, foot dust, toe jam, and Birkenstock junk while I cooked his yummy dinner lo mien and rice. I want you to watch while I prepare my asshole of a brother his nasty surprise birthday meal. Happy Birthday Brol!!! Enjoy my nasty fetish meal!
#446 Two Shits Butterscotch Pudding, 24:09s
I love preparing different snacks for my lucky ass lover. He suggested pudding cups made with my powerful shit. I mixed together two loads of my precious Goddess shit and then added a nice scoop to each little bowl of pudding. I want you to taste my Goddess poop with every spoonful of pudding that you eat. Worship MY Goddess ass and consume MY shit. I love when you carry my DNA inside of your body, so Goddess is always close with her ass lover!
​
#445 Oatmeal Raisin Two Shit, 15:37s
Enjoy while you watch my sexy ass get ready to prepare a batch of oatmeal raisin cookies made with two big poops. I have been holding my shit for a few days since I know you are very hungry for my hot shit. I love making you yummy treats to eat made from ingredients from my Goddess body. It pleases my Goddess ass so much every time a morsel of my shit is consumed!
​
#437 One Poop Brownies, 11:40s
I haven't been feeling well the last couple weeks, I was lounging around still in my pajamas then I got a knock at the door. I received a sexy little red and black dress from one of my servants. I still had bedhead hair, but I almost immediately felt a little better, and then I needed to poop! I went into my kitchen wearing my sexy new dress letting you worship my curvy body before pushing out my poop for you. I want you to eat up all of my shit in a some yummy poop brownies that I prepare for you to make your Goddess more powerful and stronger with each bite that you take of my poop treats. Worship all that comes out of my sexy Goddess ass!
​
#436 Butterfinger Morning Poo Brownies, 8:35s
I haven't been feeling well the last couple weeks, I was lounging around still in my pajamas then I got a knock at the door. I received a sexy little red and black dress from one of my scat fans. I still had bedhead hair, but I almost immediately felt a little better after being surprised and spoiled. Once I put the sexy new dress on, I got the urge to poop and bake a batch of scat brownies with one load of my poop. It will make me feel even better having you watch me poop and prepare a batch of my special scat brownies. I know how much you have been craving my sexy asshole.
​
#430 Eat My Shit Covered Reese Cups, 7:16s
I love making you crave to eat my Goddess shit. I push out two poops while sitting on my porcelain toilet since you can't be underneath my ass right now. I save my shit until I can cover Reese peanut butter cup candies for my hungry ass worshiper. I use my fingers to spread my shit on the reese peanut butter cup candies to make them taste even better for my toilet to eat up my precious shit! Eat all that I give you from my sexy ass!
​
#424ap Pissing on My Shit Muffins, 6:39s
I am wearing my super cummy, period stained purple cotton fullback panties thinking of you consuming my yummy banana nut muffins made with lots of my Goddess shit, spit, and breast milk. I want to add my pee now that they are all baked peeing right over the muffins on my bathroom floor. Eat up my Goddess filled treats! It keeps my pussy wet knowing you will be consuming my scat muffins that were made from ingredients from your sexy Goddess.
​
#424 Frozen Banana shit Muffins, 31:55s
I know you are craving to watch me shit and get filthy! I need to feed you, but you are so far away from my Goddess ass. I have been holding my shit for two days, and now I am ready to release the shit from my ass for you. I have made you wait so long, so I decided to freeze a banana and really punish my full ass with the coldness! While fucking my ass with the banana it breaks, and I begin playing with the frozen pieces popping them out of my Goddess ass. I am so horny fingering my dirty ass thinking of you fucking my ass and getting filthy with me! Worship all of MY Goddess filth!
​
#403 Spit Food for Pet Dog, 28:36s
Goddess is hungry, and craving a variety of different foods. I want to taste all of the foods that I am wanting to eat, but I do not want to swallow and eat all of my feast. I prepared blueberry bagel with grape jelly, two slice of leftover pepperoni pizza, hard boiled egg, and peach cobbler. Before feeding my dog, I take of my sneakers and put my sweaty bare feet in my dog's face. Teasing my dog with my powerful scents he loves. I enjoy eating all of my food while chewing and spitting out each bite into the doggy bowl for my pet to enjoy the food I chewed and covered with my Goddess spit. Eat all that your Goddess gives you to eat!
​
#354 Southern Scat Cornbread, 30:36s
I am super horny ready to prepare you some super shitty muffins. I know that you like my country accent, so i am going to make you some Southern cornbread made with five loads of my shit. The first load I push out of my sexy ass is a nice and creamy long turd along with my fresh nectar. The second load I filled in my green lucky panties was a firmer shit patty. The third load was thick logs that formed an awesome shit heart when I picked up from the floor. The fourth load added was a big thick creamy poop. The fifth load were little shit balls that I popped into my mouth and sucked on to add more of my Goddess spit into the mix. I go outside to prepare and make my Southern Scat Cornbread Muffins with five loads of my Goddess shit, piss, spit, and breast milk for my hungry toilet servant. I dump the cornbread mix into the bowl and mix up the fresh shit and piss with my hands to combine it with my Goddess love. I add the other loads in, one by one so the once white mix turns darker and darker as more shit is added. I add my yummy spit when it pleases me while mixing up the shitty batter. I scoop the mix into the pans into put into bake for my hungry toilet slut. Consume MY Southern Scat Cornbread Muffins!!! I love when you consume MY ass!!
​
#351 Lots of Poop 4 Loads Vanilla Cake, 34:53
​
I have been so excited about preparing you a super loaded scatty treat. I know you are hungry for my hot ass, so I have saved up four loads of my precious shit plus one fresh load and my piss. I am ready to prepare you a vanilla scat cake and I want my craving toilet slut to watch while I unload all five precious loads from my sexy ass. The first load that went into the mix was firm turds that I sucked on one by one, to give my slut some of my Goddess spit, and tasting because I know you are hungry for my poop. The second load was the hard chocolate balls that had to dig out of my ass with my fingers. The third poop was a very long and creamy shit that swimming in my Goddess piss. I saved my piss to add to the cake as well. The fourth and fifth loads were both thick darker logs that thickened up the cake batter making it a nice variety and consistency for my hungry toilet. I mix up and add the other cake ingredients and all of my shit and spit outside in my backyard spreading my Goddess shit aroma throughout the neighborhood. I love watching the white vanilla cake turn dark with more and more of my powerful shit added. Consume my vanilla scat cakes made by filthy ass!
Please reload