I love having my sweaty feet inhaled from my worn stockings. It makes me so wet thinking of my sexy dirty scents inhaled and enjoyed by those who can't get enough of my natural aroma. Sniff my powerful scents! Email if you desire to buy content, worn pantyhose, custom video, or request.
I am looking forward to you smelling my sexy scents. I have been wearing my cummy white cotton fullback panties, pantyhose, and stinky white baby doll socks for you. I want you to follow and watch me as pull down my panties I go pee a couple times then poop. I know you can't wait to smell my sexy poop too! After pooping outside, I masturbate in my cummy panties and stinky socks with my vibrator wand adding my final cum before you smell me. I want you to smell my pussy in my pantyhose too, so I tease myself more with my high powered vibrator thinking of you enjoying all the dirty scents from my sexy body.
​
https://www.cassiescatstore.com/en/store/videos/v/scatgoddess-yummy-scents-in-panty-socks-pantyhose/
​
#953 Sexy Stockings, 1:49:58s
I want you to enjoy this picture video showing off my sexy body in stockings from the year 2007 to 2017. A must for my toilet stocking lovers!
​
I was eating chips and salsa and all of the sudden I feel that I need to poop really really bad. I rush to the bathroom, but it is already to late. I can feel some my warm shit on my skin before I even make it to the toilet. I pull down my teal leggings and black pantyhose, and my strong shit smell immediately fills my nose. I squat above the toilet and release the rest of the loose poop that I could barely hold back. My tummy feels immediately better, and I stick my fingers in my ass. I use my worn black pantyhose to clean up my dirty ass and legs. Now, I need a taste of my very strong smelly runny shit. I get off while tasting my poopy dirty fingers and inhaling my powerful poopy aroma.
​
https://www.cassiescatstore.com/en/store/videos/v/couldn-t-hold-back-clean-up-scatgoddess-pantyhose/
#649 Sweaty Cummy Pee/Scat After Exercising, 21:28s
I am so sweaty and horny from walking three miles in the Florida heat. I have on tiny purple thong, worn out off black pantyhose, and my gray leggings. I get so horny removing my layers showing you my sweaty pantyhose soles. I hump some pillows after removing my leggings. My sweaty pantyhose legs and feet feels so good rubbing together all silky and smooth. I need to pee after the long walk and I stuff my cummy thong into my wet pussy to make it even wetter. I get onto the bathroom floor and begin masturbating with my thong stuffed inside my hot pussy, and a little poop pops out of my asshole. I pop my shit into my mouth and begin to chew it up. My pussy cums hard while my pussy is stuffed with cummy thong and my mouth full of shit! I can't wait for you to smell my sexy dirty scents!
​
#631 Sweaty Pantyhose Pee, 8:15s
I have been holding back the urge to pee for a couple hours while wearing my sweaty off black pantyhose with super worn gray leggings over top. I want you to smell my sweaty scents while I pee. I have been wearing my pantyhose for a couple months and my gray leggings for a few years. I know my sweaty scents have soaked on the legs of my pantyhose too since I have not washed my gray leggings in over 4 months!
​
I have not taken a shower in several days and my natural scents are becoming very fragrant While I am out shopping, I need to use the bathroom, smell and taste myself. I think my menstrual cycle will be starting soon because my nipples are so hard and I am so horny! I go into the stall, and unbutton my pants and reveal what I have been hiding underneath my shirt that has been making my pussy even wetter. I was glad i was able to stop in the bathroom when I did because I really had to go pee and poop. While I was squatting on the toilet shitting a woman came in the stall next to mine. That really turned me on smelling all of my dirty scents while listening to her use the restroom and wondering what she thought of my strong smelling feet and shit! I was horny and tasted my poop and got off before leaving the store's bathroom stall. I came home and had to pee again. I was still excited, so I teased my pussy masturbating with my powerful vibrator on my bed. I came over and over again while wearing my shit stained silky panties and sweaty worn my off black pantyhose. I stay so horny thinking of you smelling all of my sexy dirty scents! Send me a private message if you desire to order a worn, dirty panties or pantyhose to inhale my natural aroma!
​
https://www.cassiescatstore.com/en/store/videos/v/horny-fragrant-dirty-panties-and-pantyhose-from-scatgoddess/
​
#603 Two Sweaty Bathroom Visits, 8:49s
I have been wearing my off black sweaty pantyhose smelling very fragrant, I head to the bathroom at one of my favorite hamburger restaurants after placing my order. I unbuckle my black jeans, pull down my pantyhose, and black panty and pee. After filling up my belly, I went shopping for a few things to walk of the food I just ate. When I got home I exercised and later that night I stop at the convenience store to get gas and to go to the bathroom. I just have to smell my sweaty pantyhose feet again while I am in the bathroom thinking of you smelling my powerful foot scents!
​
#600 Meet My EFRO Girlfriends, 19:35s
I have been waiting for the right timing to ask my big butt girlfriend to poop for me, and not gross her out before I expose her big butt. I was driving her home the other night when she told me she had a dirty thong to give me because she had wanted some extra money for her upcoming birthday. I smiled and told her I could sell her panties, but she needed to do something else for me. I told her I wanted her to try to film her pee and poop for me. I wanted to start slow and get her to pee first for me, and then take some sexy striping pictures. I could tell by the end when taking pictures of her pussy that she was getting creamy being naughty for me. I left her with instructions to record her bathroom moments and bring to me at the end of the week. I hope you enjoy watching my shy big butt girlfriend, Ashley, go pee for and then strip out of her dress taking sexy pictures with me. After we finish taking pictures showing off her big butt, I have to go pee and use her toilet for the first time. I had a fun day starting the process of exposing my big butt girlfriend. Watch Ashley go pee for the first time and then show off her pussy, ass, asshole, armpits with me through 182 Pictures included in the video.
​
#586 Sweaty & Horny on my Period, 27:32s
I am very sweaty smelling wearing my off black pantyhose,silky checkered bikini panty, orange socks, gray leggings. My pussy is filled with a tampon, and I am so horny smelling my scents during my period. I wish you were here with me smelling how sweaty my pantyhose feet are getting. I begin humping my pillow and teasing my pussy as I strip out of my of super worn out legging pants. Enjoy watching while I get myself off all sweaty and thinking of you inhaling my dirty, sweaty natural scents! After I cum several times, I remove my tampon and sniff my dirty menstrual aroma.
​
#584 Heavily Scented on my Period, 11:51s
​
I have been cleaning up my house and I just finished exercising. I have been wearing a sports bra, t shirt, dirty off black pantyhose, worn out gray leggings, super sweaty orange socks and my stinky pink and black Adidas sneakers getting nice and sweaty. I just stopped and went to the store to pick up some drinks. My pussy is so wet from smelling all of my dirty scents. I stop in their bathroom and get off thinking of you smelling all of my dirty, natural scents!
​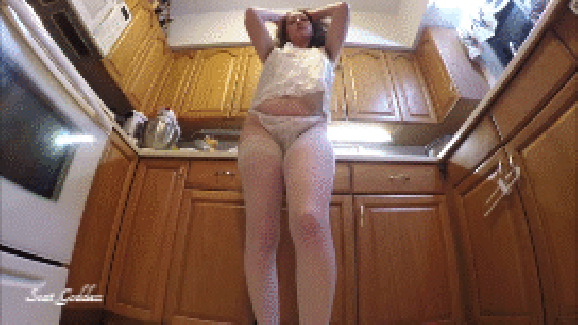 #539 Horny in White on My Period, 12:36s
I am standing in my kitchen in white silky camisole, white piss soaked thong, and white thigh highs. I am horny feeling my wet thongs press against my pussy. I am horny since I have been on my period and not fucked for a few days. I tease my pussy moving my dangling tampon string from side to side then sit on my kitchen floor. I need to get off so badly!! I keep my tampon in for a little bit while I fuck my asshole with a little pink anal toy before removing my tampon revealing my light period. I hope my period stops soon, thinking of being fucked hard, I fuck myself with my blue dildo on the kitchen floor. I love sucking on my toys tasting my juices and smelling my sweaty feet making myself cum hard!!
​
#520 Period Softcup & Sweaty Feet, 24:53s
I just got out of the shower getting ready for a couple to come over to play. I have my period, but I still want to get fucked, so I put in a soft cup to collect my menstrual blood. I leave the cup inside of me even after I had a little blood stain in my thong, and have layered my panties, put on sweaty worn out pantyhose, gray leggings, socks, and sneakers. I am smelling very fragrant as I take off my stinky sneakers, sweaty socks and pantyhose. I tease and masturbate my pussy with my vibrator and cum while the period soft cup is still inside my pussy. I am very turned on by inhaling my sweaty dirty scents thinking of you smelling me.
​
#504 Pathetic Pussy Piggy, 14:10s
I've been wearing my worn pantyhose, socks, and sneakers all day, and now it's time to give my pathetic pussy piggy a treat of my powerful foot aroma. I want to cover you with my sweaty feet, so all you can smell is Goddess before you get your bath with my precious nectar. I've been holding my piss just for you, my pathetic pussy piggy, so you will get a nice shower and even a little shitty surprise to make you even messier and more owned by my sexy ass! Worship all that comes from my sexy body!
​
#395 Special Shit Day, 23:44s
I feel the urge to go to the bathroom, so I poop in my porcelain potty. I save the creamy turds to play later since I can't play right now. Within an hour, I had to go to the bathroom two more times, but it was much looser than the first. After pooping three times, my pussy is so wet and horny waiting to get filthy. I put a pair of toeless nude pantyhose on because I want to feel all silky and get covered with my shit. Once I have my pantyhose on, I feel my tummy rumble and poop more in my silky pantyhose. I smear my shit on my pantyhose and body getting myself nice and dirty. I pull down my pantyhose, and finger my shitty pussy. I feel so sexy and turned on covered with my sexy shit. I want you to fuck my shitty ass and pussy. I need to taste you cum and my shit together. Fuck your filthy Scat Goddess and cum hard for my sexy ass!
​
https://www.cassiescatstore.com/en/store/videos/v/scatgoddess-crazy-pantyhose-shit-day/
​
I walked in and caught you with my dirty panties and shoes! Since you have been such a little asshole, and continuing to disobey, I decided it was a perfect time to shrink you down to tiny size, and teach you a lesson. Since you wanted to smell my worn sweaty, stinky belongings, now you will get what you asked for and then some! I will not only subject you to my filthiness, but whatever else pleases me! To finish off your first lesson off properly, I shit right on you, then I trap you in my worn sweaty pantyhose! Now, I have full control over you to do whatever I wish!
​
https://www.cassiescatstore.com/en/store/videos/v/scatgoddess-shrinking-you-teaching-you-a-lesson/
​
It's almost two o'clock in the morning and I need you to worship my extra worn panties and pantyhose, and all of my Goddess piss and shit. I have been so horny thinking of you smelling my Goddess pussy and ass scents, sniffing and sucking clean my juices from my dirty poopy panties and filthy sweaty pantyhose. I feel my warm piss run down my thighs, ready for you to worship my Goddess shit. I push and push, my shit feels extremely firm. I pushed out a surprisingly round firm shit ball. I can't wait for you to lick and suck on my Goddess shit, I put the shit to my mouth and began sucking on it. Thinking of you tasting and eating my Goddess chocolate, filling up my toilet slut's belly. I put my shit ball on my pussy and begin masturbating in my pantyhose. My shit pressed closely to my Goddess pussy, adding more of my chocolate to my panties for you to suck clean. I reach and get a big shit log that I had saved in my freezer. I suck on my log before giving my Goddess shit to you as my gift to worship. Kiss and obey my sexy ass all the way down to my sexy feet!
​
https://www.cassiescatstore.com/en/store/videos/v/scatgoddesss-messy-leopard-print-pantyhose/
​
After enjoying a nice dinner with you at a Japanese restaurant, I come home and immediately have to go to the bathroom. I haven't seen you in so long it seems, I wanted you to keep me company and continue to talk with you while I going to the bathroom. My tummy was hurting, and I surprised myself with such a big poop that came out, I had to have you come over and look for yourself. I can't wait to cuddle with you after I finish pooping.
​
https://www.cassiescatstore.com/en/store/videos/v/after-your-dinner-date-with-scatgoddess/
I haven't pooped for three days, and all I can think about is wanting to masturbate while poopy again. This time, I want to poop a different way, so I put on a pair of silky ivory pantyhose. I can't wait to feel the warmth of my poop and pee go down my legs since I need to really go to the bathroom now! I stand topless only wearing my pantyhose and poop, so you can watch the back of my pantyhose get all dark and messy. Pooping has gotten me extremely horny, so I pull down my pantyhose and reveal the mess I made and begin rubbing my poop all over my butt. Once my ass is nicely covered with poop, then I begin to fuck my ass with my black triple ripple anal plug. I want to get even dirtier, so I get down on the floor with my stockings still on to finish playing with my filthy butt. I really enjoy filling up pantyhose for the first time and smearing getting my ass the poopiest yet….I came so much, it was so hot! After the video, enjoy my dirty post masturbation pictures! The next time, I am dressed up, and wearing silky pantyhose I will think about the hot dirty fun I had while pooping in an ivory pair.
​
https://www.cassiescatstore.com/en/store/videos/v/first-time-shitting-in-pantyhose/
​
​
Please reload
Cum hard to my sexy ass and feet in pantyhose!